Bridges
Evaluation, Design, and Construction
Featured Services
Vehicular Bridges
Pedestrian & Trail Bridges
Culverts
Routine & Fracture Critical Bridge Inspection
Permitting
Bridge Load Ratings
Aquatic Organism Passage
Accelerated Bridge Construction (ABC)
Bridge Repair & Rehabilitation
Scour Evaluations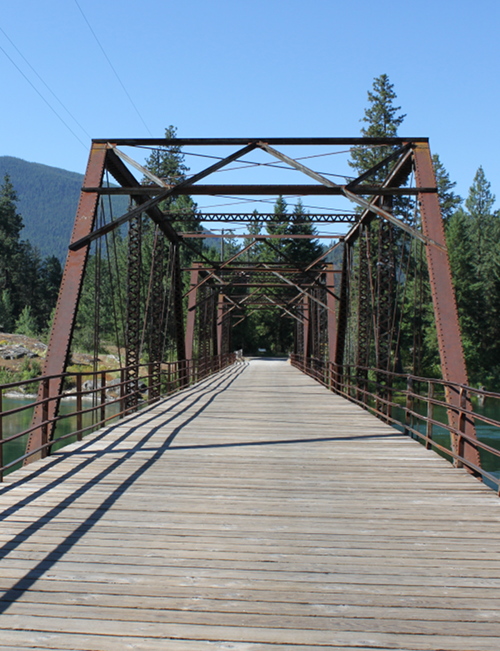 Bridges Play a Major Role in Transportation Needs
Bridges may be just one part of a greater transportation system, but in practice they are essential to the communities that rely on them.  They also become engrained in a communities history often becoming landmarks for generations to come.
At Great West Engineering, our bridge evaluation, design and construction process starts with a careful analysis of the landscape to ensure that the bridge fits aesthetically and environmentally with the surrounding area. Our diverse background in road and bridge design ensures that every project, from rural creek crossings to major highway expansions, are built for safety and longevity.
We have a long history of working with county and municipal road departments and assisting them with all aspects of their bridge and road programs.
Our construction services staff offers on-site observation, contract administration, and engineering support services for a wide range of applications.  Our staff is familiar with a multitude of grant program requirements having completed hundreds of successful grant applications. Additionally, we are experienced in applying the PASER evaluation system of paved and gravel roads.  Multiple members of our staff have also completed the Safety Inspection of In-Service Bridges training and they have successfully performed countless bridge evaluations and inspections.

Communities rely on pedestrian and road system bridges
Great West has procured funding and designed a multitude of bridges for communities just like yours.

Funding
Over $428 million in funding secured for our clients.

Load Rating
Our bridge engineers have completed load rating analyses for hundreds of structures.

Inspection
Our NBI Certified inspectors have inspected hundreds of bridges.

Pedestrian Bridges
Our engineers are experienced with designing and rehabilitating pedestrian and trail bridges.
Our goal is to build a legacy of quality relationships with our clients, and we build that legacy by providing them with the highest level of customer service.