Join Our Team
Your Future Takes Flight Here
Featured Benefits
Student Loan Assistance
Professional Development
Bonus Programs
Bonus Time
Wellness Programs
Flexibility
and Many More!
Successful people never stop learning.
Whether you're fresh out of school or two decades into your career, we know to stay competitive you need to earn credentials, master new technology, and grow your relationships. We offer a robust career development program whether you're just joining the workforce or looking to rejuvenate your career.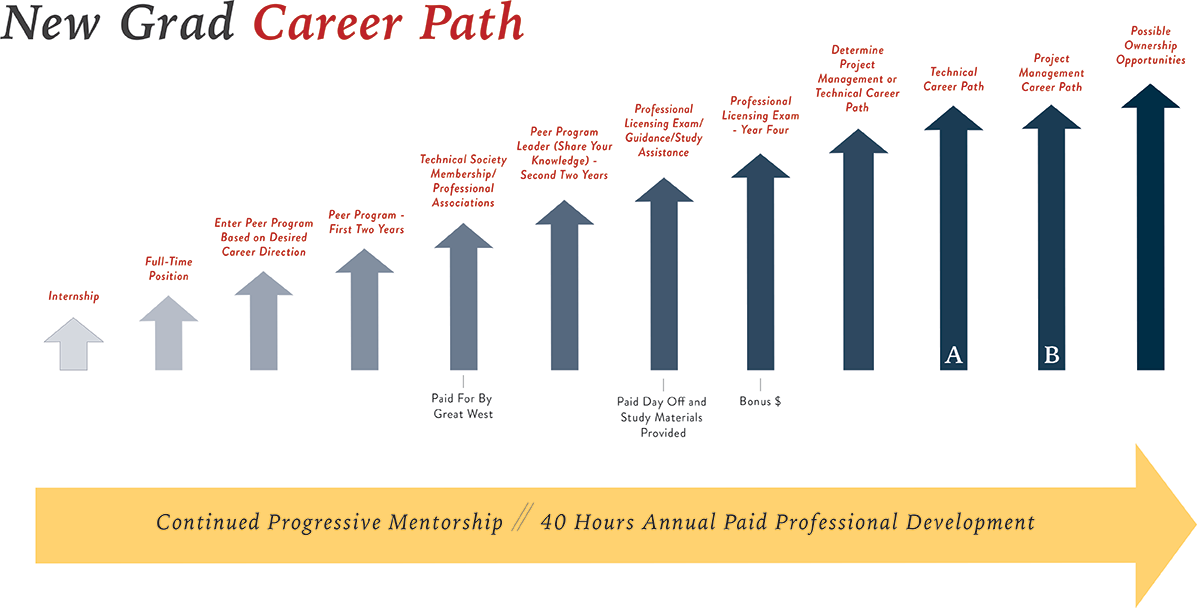 Success Story
Karl Yakawich, PE – Transportation Business Unit Manager
Great West Engineering Transportation Business Unit Manager Karl Yakawich has strong vocational roots. Born and raised in Helena, Montana Karl worked for his father's construction business in his teen years where he developed a passion for improving infrastructure and bettering public safety. During his senior year at Montana State University, Karl was selected for an internship at Great West Engineering.
As he gained real-world knowledge under the mentorship of now President Emeritus Daniel McCauley, it became clear that Karl had a bright future in the engineering world. He was hired as a full-time employee at Great West where he was mentored, attended training, and gained his PE license. Karl's passion for improving infrastructure and bettering public safety came into focus as he developed a specialty in road and bridge projects working throughout the western US. After close to a two-decade career with the Firm, Karl is an owner and principal in the firm who heads up the Transportation Business Unit leading the charge of his passion and sharing his knowledge with interns and young engineers.
The Best You
We're committed to sustainable growth and it starts with you. Each Great West employee plays an active part in their career development path. Whether your fresh out of school and need to obtain certifications or you're an established professional looking to take your leadership and project management skills to the next level, our commitment is to support your development.
There's strength in numbers, our 60 plus professionally certified staff provides formal guidance and recommendations to assist in your journey to obtain certifications such as a professional engineering license, scientific certifications, and inspection certifications.
Our Students and Recent Graduates Program
Great West Engineering has strategic partnerships with high level educational programs and professional societies to support experience professionals take their career to the next level. Though programs such as Leadership Montana, American Water Works Association (AWWA), and American Public Works Association (APWA) we equip each team member to reach their fullest potential.