The year 2020 has had its fair share of challenges, but that's not stopping Great West from spreading holiday cheer! For the sixth year, our employees banded together to raise money to support families in need in the communities we live and work. In what has become an annual holiday tradition, Great West adopts families to help with gifts, meals, and family specific requests to relieve the stresses that can be magnified during the holidays.
A casual conversation in 2015 about the importance of giving and helping those in need, particularly around the holidays, quickly turned into an informal fundraiser in our Helena office. After raising around five hundred dollars from Great West employees in a few days, our staff put together and delivered care packages to cancer patients at St. Pete's hospital and provided gifts and a Christmas meal to a local family.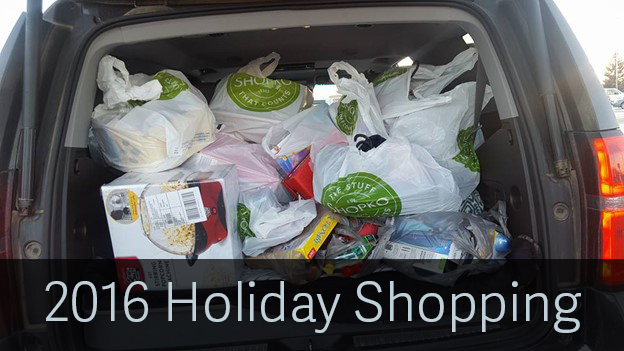 Christmas Family Adoptions (email from school counselor)
One of the grandma's from Family #1 was here this morning and I brought her in to see the gifts. She stood there with her hand over her mouth, her arm grabbing mine, shaking her head, tears in her eyes. She couldn't even speak.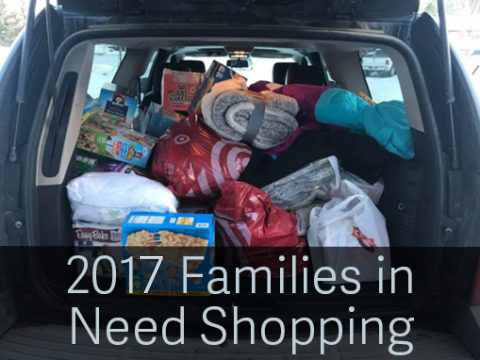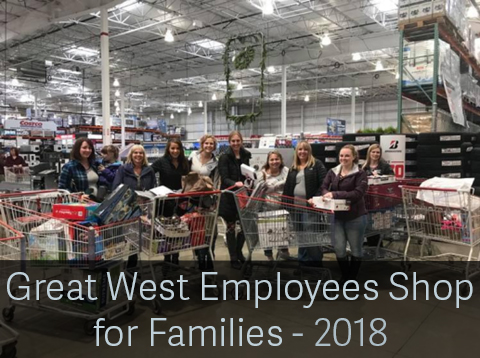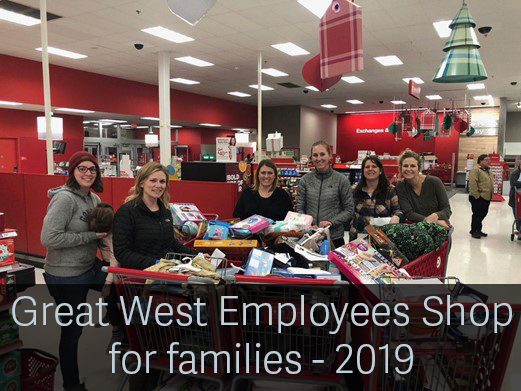 Since 2015, our holiday tradition has continued to grow. In year two, Great West began offering a dollar for dollar match for employee contributions. From 2016 through 2019, we raised over $18,000 and shopped for 14 families in and around Helena, Florence Crittenton, and Youth Dynamics. To date, we have provided everything from toys, to coats and boots, to food and gas.
With each year, special stories are created that touch our hearts. One in particular that stands out was in 2018. We were put in touch with a family in which the mother removed herself and her four children from an abusive relationship. The father took their washer and dryer and the kids' beds. She was working two jobs, facing health issues requiring surgery, her cupboards were empty, and her kids were sleeping on the floor. Through the generosity of Great West and our employees, we were able to provide beds for the kids, a washer and dryer, and fill their cupboards with food. The mother of that family, with tears streaming down her face, couldn't thank us enough, and the children were smiling ear to ear. They were so excited to have beds, something most of us take for granted. Later that year one of our employees ran into her at the grocery store and she said, again through tears, that Great West's generosity gave her the boost she needed to get back on her feet and she would be forever grateful.
Fast forward to 2020.  Our holiday giving has expanded to our offices in Billings, Great Falls, Boise, and Spokane.  Company wide we have raised nearly $11,000!  We look forward to helping many more families across the communities we live and work in this year and for many years to come.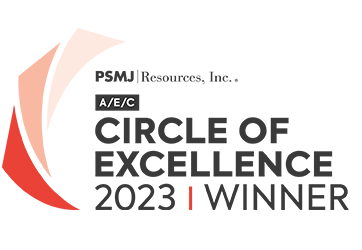 PSMJ Resources, Inc., the world's leading authority on the effective management of architecture, engineering, and construction firms, has announced Great West Engineering as a winner of the 2023 Circle of Excellence.  The Circle of Excellence highlights successfully...
read more