PS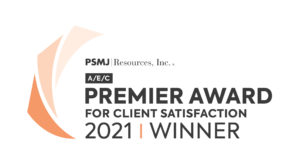 MJ Resources, Inc. has announced has announced Great West Engineering a recipient of the 2021 Premier Award for Client Satisfaction, which honors architecture and engineering firms that deliver a truly exceptional client experience.
Presented in partnership with the client experience experts at Client Savvy, this award is the only designation in the industry that highlights firms' commitment to client experience. The award calculation looks at key metrics for client satisfaction that are highly correlated with sustained growth and success as an organization.
"Only the best of the best architecture and engineering firms can boast of winning the Premier Award for Client Satisfaction," stated PSMJ Resources Founder and CEO Frank A. Stasiowski, FAIA. "In any economy, this industry deals with fee pushback and perceived commoditization of services, so delivering a best-in-class client experience is one of the best ways to differentiate a firm."
PSMJ will honor these high-performing firms at A/E/C THRIVE – The Growth, Profit, and Success Summit for A/E/C Firm Leaders on September 22-24, 2021 in Scottsdale, Arizona. This unique conference is an opportunity to hear directly from the leaders of top-performing architecture and engineering firms and other industry visionaries on specific growth, profit, and performance improvement practices and how to replicate them. Learn more at www.psmj.com/thrive.
About PSMJ: For more than 40 years, PSMJ Resources, Inc. has been recognized as the leading publishing, executive education, and advisory group devoted completely to improving the business performance of A/E/C organizations worldwide. PSMJ's sought-after expertise covers a range of critical business areas such as project management, financial management, human resources, business development, transition planning, and mergers and acquisitions. Learn more at www.psmj.com.
About ClientSavvy: Client Savvy helps professional services companies create and implement data-driven client experience and employee experience programs. They provide unconventional wisdom to drive revenue, referrals, and repeat business. Their proprietary Client Feedback Tool enables clients to share how a firm is performing relative to expectations on the most relevant dimensions. and likelihood to recommend. Learn more at www.clientsavvy.com.