Every year thousands of fish take a wrong turn and end up trapped in irrigation canals. When fish become trapped or "entrained" in canals, they are vulnerable to predation from birds or become stranded and die when the canal is drained. Fish screens are structures that have proven to be an effective solution to prevent fish from entering. Developed as a win win solution, the screens allow irrigation water to continue to flow and prevent fish entrainment without affecting the functionality of other pieces of infrastructure, such as the headgate, diversion and the ditch itself.
Fish screens are a relatively new technology, and more importance is being placed on installing these structures in irrigation ditches in Montana, with non-profit groups such as Trout Unlimited and the Clark Fork Coalition spearheading the projects and state agencies such as the Natural Resource Damage program providing funding for the design and installation. The Montana Fish, Wildlife and Parks service identifies drainages with protected species of fish (generally trout) and unscreened canals that pose threats to these species. They will then determine which canals cause the most fish entrainment and assign priority levels accordingly.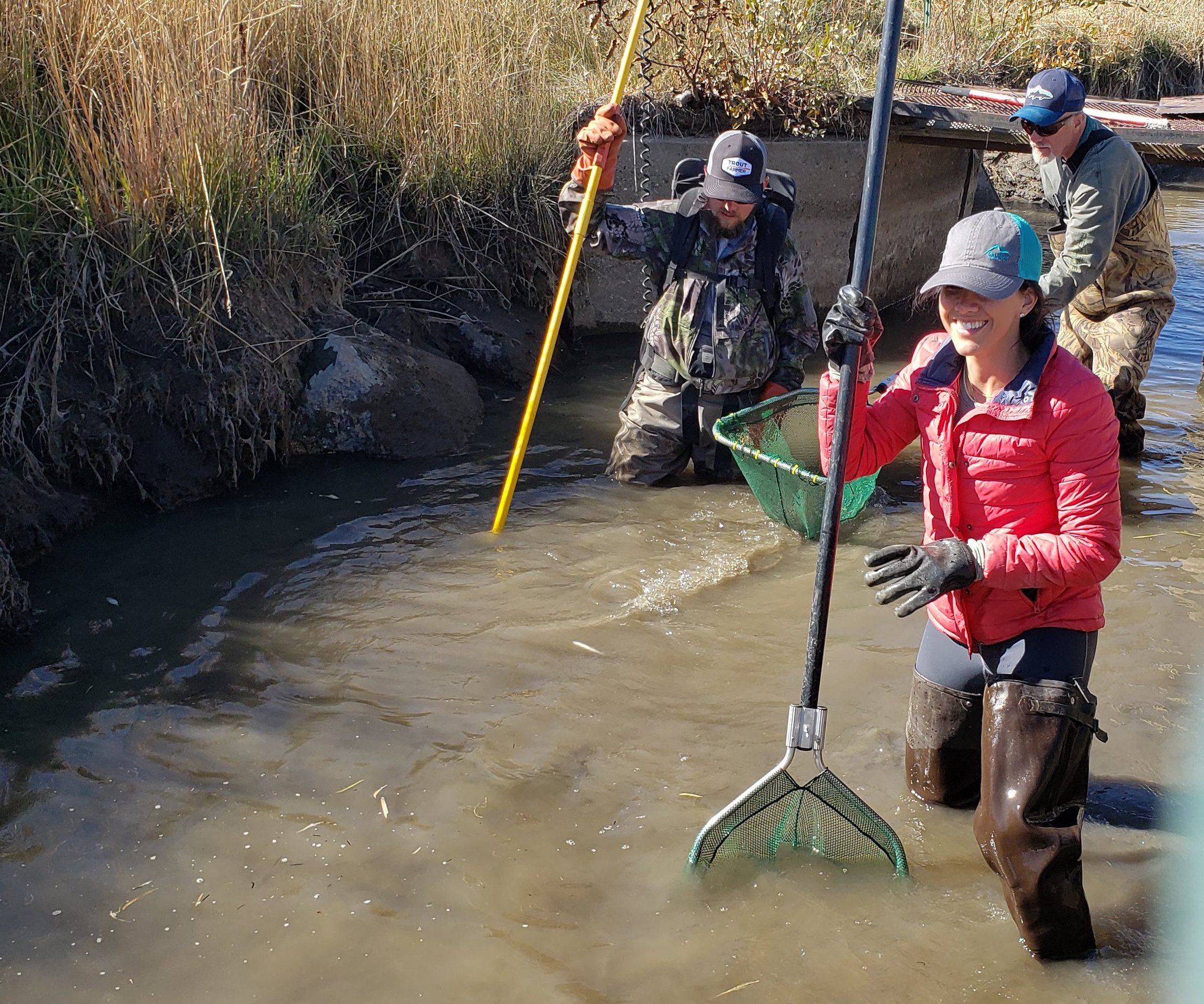 Great West Rescues Trapped Fish With East Yellowstone Trout Unlimited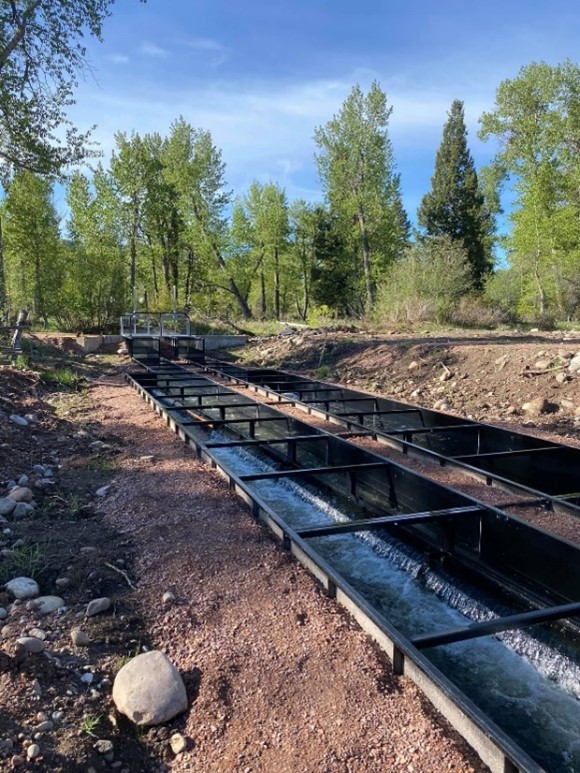 Farmers Conservation Alliance Screen (FCA)
Corrugated Water Screen (CWS)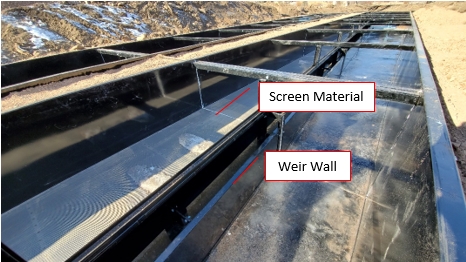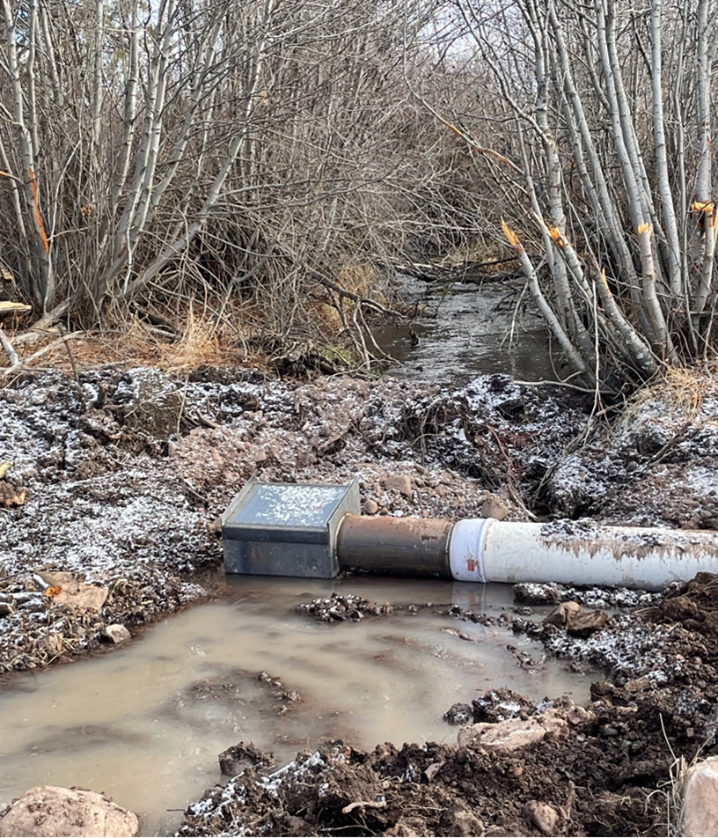 In-Stream Coanda Fish Screen During Construction
Corrugated Fish Screen in Action
Several different varieties of fish screens exist, many of which have multiple configurations in which they can be installed. Passive fish screens are structures that operate without powered or mechanized components. These screens are designed to use a high sweeping velocity to clean debris off the screen material. Passive screens are often installed in remote areas without convenient access to electricity. Non-passive or mechanized fish screens operate using powered components, which may include a moving screen material or a mechanical cleaning system. Non-passive screens are better suited to larger operations with access to electricity. Types of screens include Farmers Conservation Alliance (FCA), Corrugated Water Screens (CWS), Vertical Plate, Rotary Drum, Traveling Belt, Cone and Coanda. The types most commonly designed by Great West Engineering are FCA screens, CWS screens, Vertical Plate screens and Coanda screens.
Corrugated Water Screens (CWS)
Corrugated Water Screens consist of corrugated stainless steel panels with perforations to allow irrigation water to pass through. The panels are installed at a gradual slope and housed in a steel modular or custom concrete structure. A weir wall on the upstream end of the screen panels creates a backwater to allow water (and fish) to pass over the panels and down the corrugation troughs.
The irrigation water passes through the holes and down the ditch, while a small portion of the water flows off the end of the screen to carry fish into the fish return, which is typically a PVC pipe that allows flow back to the creek. Stop boards can also be installed on the upstream end of the panels to block off specific screen panels from receiving flow.
CWS screens typically have a smaller footprint and a lower cost than other passive screen types. They also operate passively, which means that there are no mechanized or powered parts of the screen. However, CWS have a relatively high head requirement and may require cleaning more than other passive screen types.  
Farmers Conservation Alliance (FCA) Screens
The initial stage of a FCA screen is a long flume to allow flow to stabilize while moving from the headgate to the screen material, which consists of a perforated stainless steel plate installed horizontally. The depth of water over the screen is controlled by a weir wall installed parallel to the screen. Irrigation water flows through the perforations and continues down the ditch, while a portion of the water flows into the fish return. The screen material and the weir wall are both housed in the same structure, which can also be a steel modular or custom concrete structure.
FCA screens have been installed for over 20 years – so the technology is proven. The head requirement is lower than other passive screen types and cleaning is generally lower. Similar to CWS, these screens operate passively. However, FCA screens can be more cost prohibitive in materials and require a large footprint.  
Coanda Screens
Coanda fish screens consist of a sloped screen material that allows water to pass through and drop into a collection system for irrigation use. These screens are often placed in the stream, whereas other screen types are typically placed in the ditch. The screen material is typically housed in a steel modular structure or mounted directly to a pipe to convey the screened water.
Coanda screens are simple to design, are less expensive when compared to other passive screen types and require a smaller footprint. However, the screen essentially acts as a weir in the stream channel, which impacts upstream water surface elevations which may cause ponding or flooding. Coandas are also still considered an "experimental" screen type by the National Marine Fisheries Service (NMFS).
Fish screens are important pieces of irrigation infrastructure that protect fish in our waterways. Many kinds of fish screens exist and are in use, each with their own advantages and disadvantages. The design can often be challenging and many land users are deterred from installing them due to the cost. Funding from state and federal agencies and efforts by non-profit groups are pivotal to getting these structures installed, which are essential to the well-being of many different species of fish, including native westslope cutthroat trout and bull trout in Montana. By preventing fish from becoming entrained in ditches we are protecting fish populations, which is good news for maintaining the wonderful aquatic biodiversity in around the country.  To learn more about how fish screens can be utilized in your community, contact us today.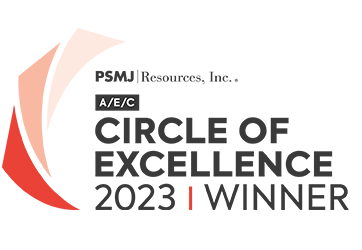 PSMJ Resources, Inc., the world's leading authority on the effective management of architecture, engineering, and construction firms, has announced Great West Engineering as a winner of the 2023 Circle of Excellence.  The Circle of Excellence highlights successfully...
read more