Throughout the past three decades, Great West Engineering has focused on providing quality solutions, client commitment and empowering employees.  We strive to create an environment that fosters creativity and growth for each employee.  Creating and maintaining a positive environment requires considerable effort as a firm and we are ecstatic to have recently won several employee driven awards for our work environment.
Montana Top Workplaces 2021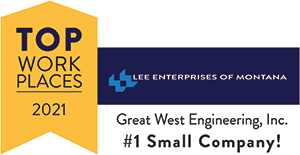 Great West was recently notified of a nomination and ultimately was announced as a winner of Lee Enterprises' Top Workplaces of 2021!  The employee driven award focuses on people-first culture excellence and prioritizing it day in and day out.  Centered around an employee engagement survey, anonymous responses are captured in relation to:
Align: Where the company is headed, its values, cooperation, effective meetings
Connect: Employees feel appreciated, work is meaningful, working at full potential, clued-in to each other
Coach: Managers care about concerns, are helpful, encourage employee development
Performance: Execution, open-mindedness, innovation, clued-in leadership
Employee Engagement: Productivity, retention, recruiting
Leadership: Confidence in company leaders
The Basics: Pay, benefits, flexibility, training, expectations
PSMJ Employer of Choice® 2021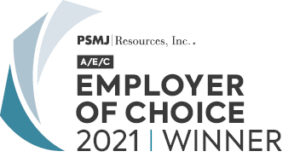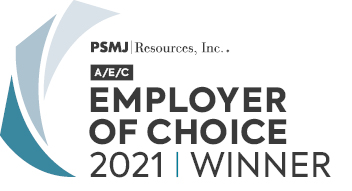 For the third consecutive year, Great West was one of ten nationwide winners of PSMJ's A/E/C Employer of Choice® Award!  Based on employee responses, the Employer of Choice® Award revolves around a 70-factor employee survey which dives deep into what firms do to inspire, encourage, and engage with their employees.  As a three-time winner, we take great pride in knowing our efforts are recognized and appreciated by our employees.
ROSE Award
We value all awards but near and dear to our hearts is our very own Recognition of Special Effort (ROSE) award.  The ROSE is a peer selected award that recognizes employees for going above and beyond for our clients, fellow employees, and the firm.  Announced at the Great West Annual Picnic, this year's bi-annual winners are nothing but exceptional.
Ryan Pearson, PE – Municipal Group | Winner!
Ryan has worked at Great West since he interned in 2014.  He has proven himself time and time again and is this years' biannual winner!
What his peers said
"Always has a great attitude and is a rock star on construction projects"
"Never complains and always steps up!"
"His personal sacrifices, commitment to quality, hard work, and dedication are recognized and very appreciated"
LaNette Jones, CGW – Community Development | Runner-up
A recent addition to the Great West Team, LaNette has demonstrated her grant writing and administration abilities by assisting our clients in obtaining grants and low interest loans, and is this years' bi-annual runner-up!
What her peers said
"A huge asset to the grants group, particularly during the recent ARPA push"
"Extremely knowledgeable about grants, she never complains, is an awesome co-worker who always pulls her weight"
"She goes out of her way to teach Yoga in the office to help keep her co-workers healthy, amazing!"
Congratulations to both Ryan and LaNette on your recent awards and a BIG thanks to all our employees for all you do!  Interested in working for an award winning firm, check out our open positions here.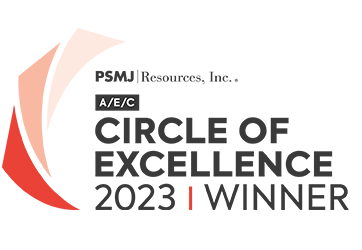 PSMJ Resources, Inc., the world's leading authority on the effective management of architecture, engineering, and construction firms, has announced Great West Engineering as a winner of the 2023 Circle of Excellence.  The Circle of Excellence highlights successfully...
read more